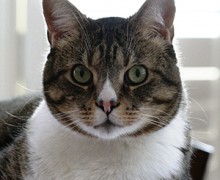 Capturing the beauty of the lowcountry
Savannah Sam Photography LLC focuses on the nature and history of the "lowcountry" — the south coastal area of the United States — stretching from Charleston, South Carolina to Cumberland Island, Georgia.  
This area is rich with artistic photo opportunities provided by the many wonderful locations in the Ace Basin, Low Country, and among the various bluffs, hammocks and fish camps dotting the coastline of South Carolina and Georgia. The classical southern charm of the south coastal United States provides a wide palette of opportunities to express "A Unique Vision of the Coastal Lifestyle".
Our feline mascot
The "face" of Savannah Sam Photography is a "rescue" cat named Mississippi Wink. He was plucked from a four-lane highway in the state of Mississippi when he was just three weeks old. He has a lazy eye which winks with regularity and hence the name. We are not sure who was actually "rescued" that day in Mississippi, but he has been a constant source of comfort, love and devotion to our family for many years. He is a constant reminder of what is truly important and beautiful in our lives and that we should not allow the little things to slip by without notice....and from that the mission statement and direction of Savannah Sam Photography was born!  
SAVANNAH SAM PHOTOGRAPHY IS A REGISTERED TRADEMARK ® WITH THE USPTO. ALL PHOTOGRAPHS APPEARING ON THIS OR ANY OTHER SITE, OR ANY IMAGES CONTAINING THE WATERMARK "IMAGE BY SAVANNAH SAM" OR "IMAGE BY SAVANNAH SAM PHOTOGRAPHY" ARE THE PROPERTY OF SAVANNAH SAM PHOTOGRAPHY, LLC AND ARE PROTECTED BY U.S. COPYRIGHT LAWS. THEY ARE NOT TO BE COPIED, DUPLICATED, DISTRIBUTED, REPUBLISHED, DISPLAYED, POSTED, EMAILED, DOWNLOADED, REPRODUCED OR TRANSMITTED IN ANY FORM OR BY ANY MEANS, TOTALLY OR IN PART, INCLUDING ELECTRONIC, MECHANICAL, PHOTOCOPYING, OR THE USE OF DIGITAL DUPLICATION/COPYING SOFTWARE VIA SCREEN SHOTS AND SCREEN SAVERS, IN ANY MANNER WITHOUT THE EXPRESSED WRITTEN CONSENT OF SAVANNAH SAM PHOTOGRAPHY, LLC. © ALL RIGHTS RESERVED.